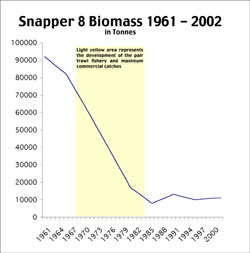 (click pic above to see a larger image)
For example, Snapper 8, the North Island's west coast fishery, has been below the legal sustainable level for more than 20 years.
When the snapper fishery was healthy bag-limit catches of large snapper were common.
Now, many people are constrained to feeding their family on a few just-legal sized fish, on a good day.
Around 90 percent of the snapper biomass (stock level) has been removed from the once-abundant west coast.
This leaves commercial and non-commercial fishers competing for the remaining 10 percent, and we all know there is no comparison between trawling and hook-and-line-fishing off the beach.